The better weather is slowly emerging. Gone are the strong winds and rain that battered us in winter. Drier, sunnier weekends mean it's time to look around the home and get onto all those DIY jobs that need to be fixed.
Whether you are doing some DIY jobs around the house, or making some slightly larger home improvements before selling or renting out your home, it's wise to be safe, secure and efficient when tackling the task at hand. A mobile scaffold really is a great investment and a key piece of equipment, which can be used for all sorts of building and DIY jobs.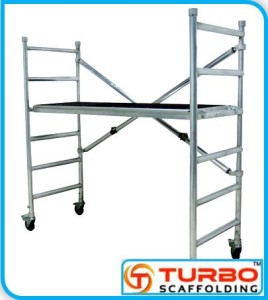 For handymen, you can reach gutters and windows for painting, cleaning or replacing safely without wobbling on a ladder, balancing materials and hoping your mate doesn't wander off when holding your ladder steady.
For tradies, a mobile scaffold can really improve your day-to-day job. A lightweight, yet sturdy mobile scaffold ensures that you can work safely at height and, by using a mobile scaffold you can benefit from secure, easy lock assembly, sturdy platforms to work from and the mobility to move the scaffold wherever you need. By using a mobile scaffold, tradies and DIY enthusiasts alike can improve efficiency, perform precision finish and moves you on quickly to the next job.
Mobile scaffolds today are easy, quick and safe to assemble and the kits are designed to collapse and store easily when not in use. You can even have mobile scaffolds which fit neatly onto a small trailer so you can move from job to job easily.
Look for an Australian made mobile scaffold which gives you all the features, benefits, accessories and guarantees of safety and you will be rewarded with many years of reliability and usage.