When you're about to set up a scaffold to support your workers you want to make sure it's up to the task. Choosing the correct scaffolding platform for your next build is the most important thing you'll do in keeping your staff safe and secure in the air, and minimising your risk of falls and falling equipment on your worksite.
As scaffolding comes in many forms and can be used in many situations we take a look at some of the most common forms of scaffold below. They all have their own particular uses and offer convenience and a safe working platform. Choosing the correct one for your application is paramount in ensuring the safety of all above and below the worksite.
MOBILE SCAFFOLD TOWERS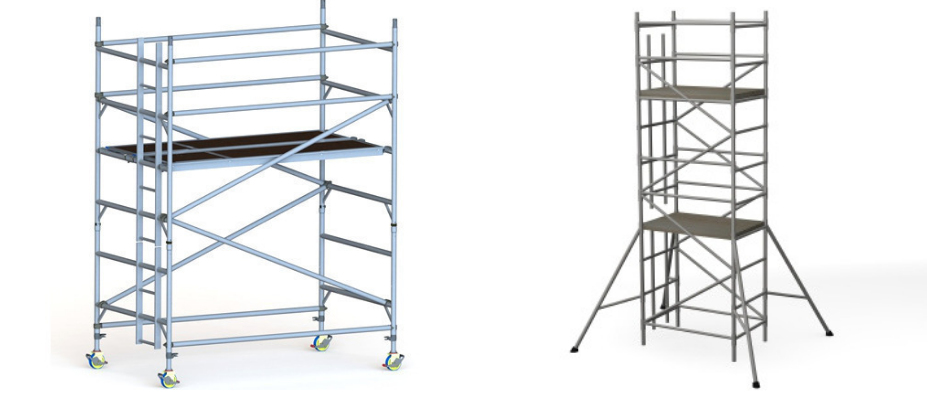 Mobile scaffold towers provide a quick and convenient work platform that can be shifted as needed. They can be erected and removed quickly and easily and come in a variety of widths and heights.  When utilising a mobile scaffold tower and extending no greater than 5m, they can be erected by any "competent person". Erecting above this height requires a qualified scaffolder to complete.
If you have a small or large job that requires constant movement such as painting, plastering or gutter work, a mobile scaffold may be what you need. If you need access down the side of a house, or in a narrow alley you can still utilise mobile scaffold to give you a safe platform. Mobile towers come in a narrow format making them ideal for small spaces, even elevator shafts to still provide you with a safe work platform. Narrow scaffolding towers cannot be extended as high as standard towers, but they are still high enough to reach ceilings and gutters making them ideal for small jobs.
ALUMINIUM SCAFFOLD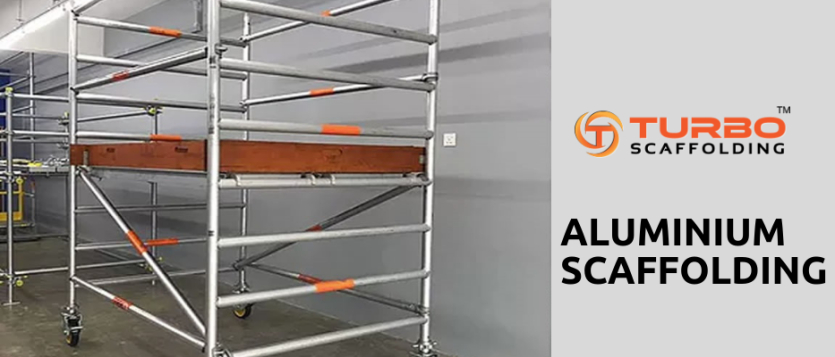 Aluminium building scaffold is one of the main structures that will be used around houses and worksites that require height without the weight. Aluminium is easier to work with than steel as it is lighter framed and can be carried to site. It is flexible in it's design and is utilised around buildings, or delicate work where you can't secure to a building. Aluminium can be used to span great distances, but it cannot hold the same weight, or extend to the same height as steel.
This kind of scaffold is great for inside work, elevators, stairwells or heritage buildings where care and consideration is key. It gives you height, flexibility and safety and your workers can carry and erect without the use of heavy machinery such as cranes. Aluminium has so many uses that it is the go to scaffold for most companies that are not into the high rise construction, or new development work. Councils also prefer aluminium for their maintenance work as it's quicker to erect and remove with limited disruption to the worksite.
STEEL SCAFFOLD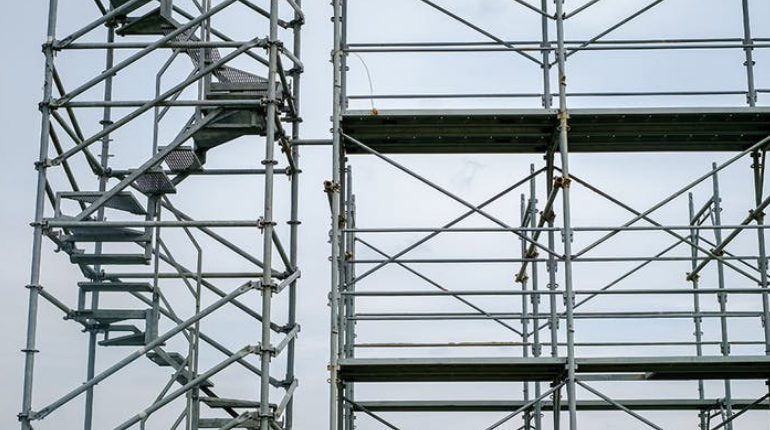 Steel scaffolding is seen mostly on construction sites as commercial scaffold. It is used in high rise buildings and structures that extend past the 20mtr mark. It provides workers with an incredibly secure work platform that can take large loads and can bear heavy weight. This makes it your go to scaffold for bricklayers and form workers that can then crane their supplies to the top level and load them onto the work platform making it easy and convenient to continue working at height.
Steel scaffold is secured directly to the structure it is being used for, securing it from the ground up. Most steel scaffolding needs to be certified by an independent certifier who will deem it safe to start work on as it will be extended sky high to cover all levels of the building. Steel must be craned into place and is much harder to work with than aluminium due to its weight, however this allows it to bear larger loads and extend well beyond the reach of aluminium.
CHOOSING THE RIGHT ONE
Before hiring or purchasing your scaffold you need to ensure you're making the best and safest choice for you and your staff. Scaffold is about minimising the risks of working at height and preventing not only falls, but falling equipment as well. Making the right choice before you start your job will be paramount to your safety and those around the worksite.
Don't rush your decision, talk to a professional, gain an understanding and make the right choice for your next scaffolding tower.
You may also like to read: Top Scaffolding Buying Essentials