It is the combined responsibility of the main contractor and the scaffolding employer to evaluate risk and safe work method guidelines. They should get required information from the scaffold manufacturer, dealer, site management and talk with the workers who carry out erections, adjustments and dismantling of the scaffolds. These guidelines ought to be taken into account while setting up site-specific safe work standards.
Important instructions for completing the work safely:-
Never throw scaffold items, always pass it through.
When setting up edge protection for the platform above, the scaffolder ought to work from a safe position.
Always, the scaffolder should stand on the erection platform with edge protection.
From the below work platform, erection of the temporary edge protection should be done and permanent edge protection can be installed or removed by working behind it.
When installing the platform directly above, the scaffolder should be well-supported on a fully planked platform, excluding platform spacing over 2 metres where other purpose-built erection platforms may be essential for platform installation.
Until the scaffolding is dismantled, the fully planked platforms should be technically 2 metres apart, in an upright position and remain in its place.
Except for the access bay, the first platform can be up to 3 metres above the ground or support surface.
Up to the first platform and in between platforms on the scaffold, safe access should be rendered.
Dangers from overhead power lines should be evaluated and controlled.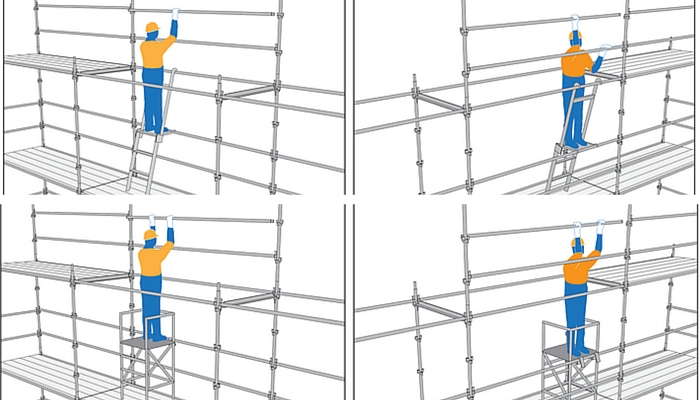 By following the above instructions, scaffold erectors can safely erect, adjust and dismantle scaffolds.
To buy high-quality scaffolding parts and scaffolding in Sydney, turn to none other than Turbo Scaffolding, an established Australian company that is in operation since the last 20 plus years.