Working on home improvement projects yourself will give you immense satisfaction for completing the job, as well as, help you to save money. Scaffolding is valuable equipment pieces that are used in many home improvement projects nowadays. The chief use of scaffolding is to support workers and materials when working at heights. Safety is critical to all scaffolding jobs, so obviously there are strict rules that need to be adhered to when working with scaffolding. Well, if you're planning to accomplish a DIY project using scaffolding then there are specific safety facts and considerations that you need to understand. If you intend to work with the scaffolding equipment and tools, then scaffolding safety tips mentioned below will surely help you:
UNDERSTAND THE INTRICACIES OF YOUR HOME INSURANCE POLICY
First, you need to open your home insurance policy and find out what is covered and what isn't. It is imperative to find out if injuries resulting out of home improvement projects are covered under your home insurance or not. Never start your home improvement project without first checking if you're appropriately insured because you may discover that using scaffolding for a home improvement project may fall out of your policy's scope.
IT'S IMPERATIVE TO KNOW THE MOST COMMON REASONS FOR INJURIES
Knowing the most common reasons for injuries pertaining to working with scaffolding equipment will provide you with a better understanding of the intrinsic risks involved. Here are the major three reasons for scaffolding related injuries:
Falls associated with faulty scaffold assembly.
People who are below the scaffolding structure may get hit by flying objects.
Scaffolding structure or platforms may get weak and fall apart.
Having the right knowledge about how scaffolding operates is crucial not only for your safety but also for those around you. That's why you need doing sufficient research before commencing any project, which involves scaffolding.
UP TO 4M HEIGHT SCAFFOLDING CAN BE USED WITHOUT A LICENSE
Where there is a probability of fall greater than 4m affecting either the person or materials, you'll need to hold a high-risk work license or you can't work with scaffolding. Here "working with scaffolding" implies the erection, changing or taking apart scaffolding equipment.
GET PROFESSIONAL ASSISTANCE FOR ASSEMBLING SCAFFOLDING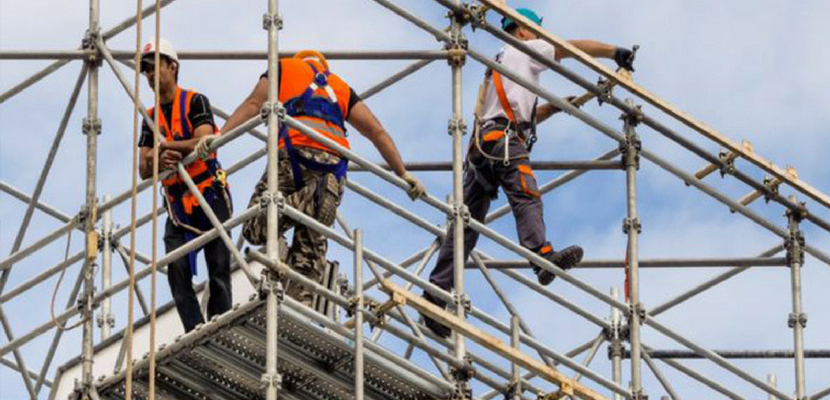 Well, one of the major safety concerns with scaffolding is to assemble the scaffolding system and make sure that it supports the maximum load safely. Normally, if you're renting scaffolding from an established company, then they will make adequate arrangements for a licensed professional, who will come to set up/ erect and also to take apart/ dismantle your scaffolding equipment along with the requisite check-ups and paperwork. Therefore, when you receive the quote for scaffolding equipment, ensure it has this service included.
However, if you purchase quality scaffolding separately, make it a point to take the help of a professional for assembling the scaffolding. Assembling scaffolding in the right manner is critical for your safety and the safety of others around you. Nonetheless, if you want to assemble the scaffolding yourself, then you'll have to obtain high-risk work license for scaffolding.
THE BOTTOM LINE
Regrettably, human error is the most common reason for scaffolding injuries, that's why it is imperative to know what you're up to prior to commencing with your home improvement project. Many of the scaffolding incidents can be prevented so do your homework and go through some educational videos over the Internet or attend training courses, which will immensely help you when working with scaffolding.
It's easy to find local scaffolding provider with a simple Internet search but ensure to go through the reviews so that you approach an honest and reliable scaffolding dealer whom you can trust.