The efficiency and quality of every construction project depend largely on the equipment that is used in the procedure. Moreover, when it comes to equipment, scaffolding is considered the strongest product for any small or large construction project. In fact, any scaffolding material used during the construction should be of the best quality and long-term durability. Irrespective of the scaffolding type you're using; it should be correctly stored, inspected and maintained regularly to preserve its load supporting capabilities.
Scaffolding Maintenance Checklist
Post buying, the customer (i.e. builder or contractor) should install scaffolding as per manufacturer's guidelines.
The customer should take great care of scaffolding equipment while it is being handled and transported and ensure it is stored appropriately using the right storage systems. Make a proper scaffold maintenance checklist and follow it.
Scaffolding should be ideally stored in proper damp-free, frost-free environments.
Inspect scaffolds at regular intervals and if you spot any general deterioration or damage then provide necessary repairs and/or refurbishment.
Scaffolding Handling & Installation Tips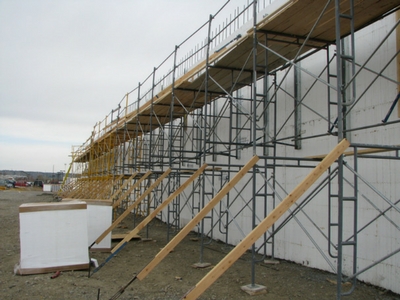 Different scaffolding equipment has different features and they are meant for different purposes, thus, load-supporting capabilities among them differ greatly. For this reason, it is highly recommended to get the scaffolding system installed by a thoroughly trained and qualified scaffold expert to maintain the durability and longevity of your scaffolding system.
There are three main types of scaffolding system viz. Kwikstage, Cuplock and Ringlock; all three of them have just one feature in common and that is – they are prefabricated in nature.
Let's glance at clip scaffolds and traditional tube; again, we can see that this system has its own distinctive "load supporting capabilities".
When installing scaffolding, another very important factor to consider is to install/ erect the scaffold as per manufacturer's guidelines. This is important because the structural stability and the scaffolds load supporting capabilities depend on how the scaffold is installed.
If the scaffolding system is not installed as per manufacturer's guidelines, even taking out one important cross brace can result in the scaffold being structurally shaky and unsafe with a significantly curtailed load supporting capabilities.
The load supporting capabilities is also known as "critical load", which is specific to each scaffold type, therefore, it is so important to have installers who are fully trained and qualified in the specific scaffold system.
Scaffolding: Transportation & Storage
How the scaffolding is handled, transported and stored greatly affects the longevity of any scaffold type. When scaffolding equipment is not stored using the right scaffolding stillage, scaffold tube can get bent, warped, battered and dented? This will lower scaffolding unit's actual-designed load supporting capabilities and overall strength. To avert corrosion of metal and strength reduction, take care to store scaffolding within a damp-free and frost-free atmosphere.
Scaffold Repair/ Reconditioning 
Scaffolding equipment requires repair or reconditioning irrespective of how cautious contractors are through time, general deterioration and occasional accidental damage do occur.
Before and after every scaffold use, regular inspection of scaffold should be undertaken, which is usually recommended. This will help the contractor to act swiftly to any damaged scaffolding, which may need repair or reconditioning to make it fit for operations, supporting load appropriately and is structurally restored in good condition.

The Bottom Line
Any type of system scaffolding or traditional tube & fitting scaffold is normally manufactured from aluminium or steel. By nature, metal is not only vulnerable to corrosion but also susceptible to being dented, damaged and bent. Therefore, proper handling and installation, transportation and storage as well as repair or reconditioning of scaffolding systems is essential for scaffolding safety.
Now, you can buy durable scaffold supplies from Sydney's established company Turbo Scaffolding that has a collective experience of over two decades facilitating Australia-wide delivery.