As most of us construction workers would know, there are two types of scaffolding systems that are used to construct scaffolds. One if the cuplock scaffolding while the other is the kwikstage scaffolding, something we will discuss about here. Where the latter scores over the former, is its simplicity in assembling, making it most popular type to be used in construction projects as well as work sites. Being easy to assemble, semi skilled personnels including construction crews and painters can assemble them with ease too.
The Kwikstage Scaffold is a modular system of scaffolding that is popularly used in Australia, New Zealand, and the United Kingdom. Kwikstage scaffolding is anadaptable system that maximizes usability and safety in both shore and access applications. It is characterised by its modular design, the stable working platforms and easy to use staircase towers. It ensures multiple size and structure configurations that provide safety from any trouble with the rubble.
Why do you need Kwikstage?
Kwikstage scaffolding can offer the right avenue of support one needs when a building is under construction or repair. One might wonder what the advantage of Kwikstage is over the more orthodox tube and fit scaffolding is. The benefits of Kwikstage scaffolding are several and sundry, vetted by a reputation that has been built over half a century


Simplicity: A monkey could do it.
The Kwikstage system is easy to erect and dismantle. This not only expedites work, but also allows for the proper enforcement of safety procedures.
Besides increasing the speed of access to construction through simple structuring, the high load bearing capacity of the Kwikstage scaffold is suitable for multiple trades and heavy industrial projects.
Efficiency, Adaptability, and Safety: No Pain, All Gain!
The bases of the system are adjustable to the point that they can overcome highly sloping ground and great heights of buildings. This makes the Kwikstage scaffold lucrative in terms of adaptability to its environment.
There is a marked decrease in damages and an increase in efficiency from traditional scaffolding systems due to the use of captive connectors.
Kwikstage further accelerates work by eliminating the obstacles posed to normal scaffolding by awkward internal bracing in residential constructions. Projections like porches, sills and balconies can be easily bypassed with this handy model.
Kwikstage scaffolding ranges boast a large selection of multipurpose accessories like handrails, bays, and board stage brackets. These boost safety and eliminate excessive components from scaffolding structures.
Value for Money: Long Live the Scaffold.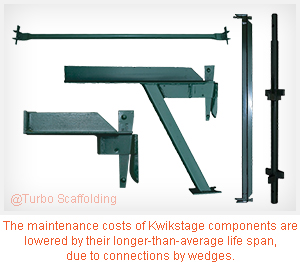 Kwikstage components are generally made of durable galvanized steel that can be custom-painted.
The maintenance costs of Kwikstage components are lowered by their longer-than-average life span, due to connections by wedges.
The myriad advantages to the Kwikstage scaffolding system- its endurance, versatility, the security it provides, and its reliability among builders-make it one of the most cost-effective systems available today. So when are you making your castles in the air a reality?