When most people think of scaffold they see a platform that starts at the ground and works it's way up the side of a building or structure creating a safe work platform for tradies and the like. But what if you need to work up a set of stairs, or under a structure that has no ground underneath, what then?
Scaffold is a safe work structure that comprises of cylindrical posts held together with couplers and finished off with wooden platforms for working from. It doesn't have to start on even ground as there are many ways that you can organise your scaffold to get to even the most challenging of surfaces.
Standard Scaffolding Build
This type of build requires a solid, even surface underneath it so that it can be based out and erected from the ground up. If the ground is slightly uneven that can be fixed by utilising jacks to even out the base of the scaffold before you continue to erect. If the ground underneath is unstables, such as gravel or sand you may need to consider a different erection style. This kind of construction is suited to house painters, gutter work and window cleaners.
Adding a Roof Catch
This is exactly what it sounds like, as the scaffold is constructed we add a catch underneath the roof that makes sure nothing can fall from the roof and hit the ground. It extends out from under the eaves and is used for any kind of roofing work, adding an extra layer of safety.
This is very popular if you are working on a construction site that will have regular civilian foot traffic underneath it such as city buildings and office blocks. It can also be used to protect anything underneath your scaffold that may get damaged.
Cantilever Scaffold
Scaffold can be cantilevered off the side of a building if the ground underneath is not even or unsuitable for base outs. This is a balanced scaffold that uses the building on one side to support the scaffolding. You tie the scaffold into a wall and then utilise balance to ensure your scaffold stays strong and level as you build off that structure.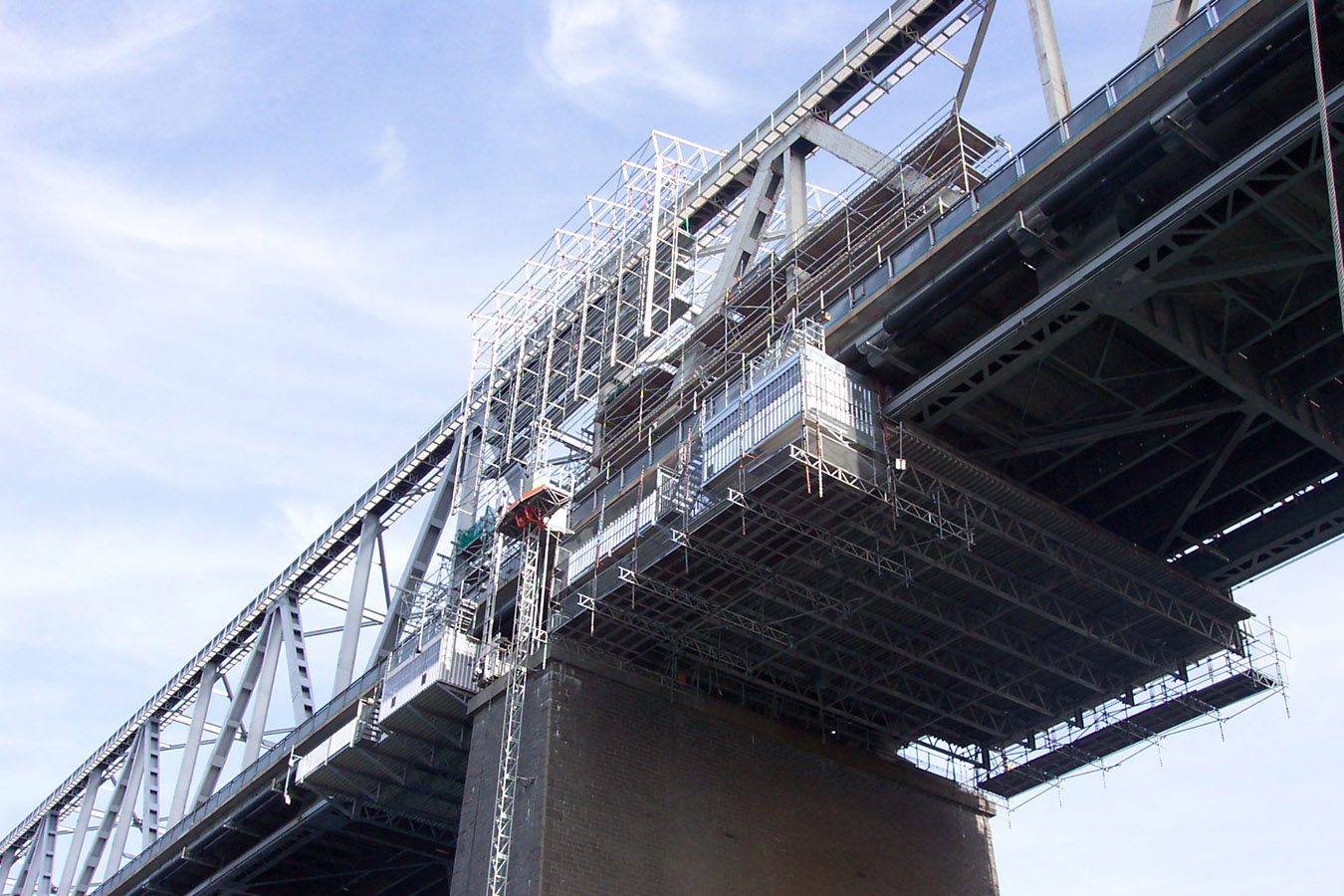 Suspended Scaffold
If you're working over a surface such as water and you need to provide a working platform beneath a bridge for instance then you will need to suspend your scaffold off the structure and work your way down to the height that is required. This is a much more complex build and uses different scaffold materials to a normal build. You need to ensure the company you are hiring to complete your scaffold work has the ability and material to complete this kind of build.
Aluminium, steel or kwikstage – Not only are there many different build types, but also different materials are used to complete the job. Aluminium is light and offers a flexible designs although it won't carry the weight you'll need if you have bricklayers.
Steel scaffold is required when you need a higher load bearing capability or you need have a very tall structure. Most of your new construction is steel. This structure can carry much more weight but is also harder and heavier to erect.
Kwikstage is a click together system that is used mainly for small jobs and 1 person teams.
These are only a few of the different types of scaffold that can be built for your next project. Depending on the location of the job and what needs to be done, most scaffolding companies can offer you a customised solution that will suit your needs and budget.